I am loosely following 'The Non-Runner's Marathon Guide' training schedule, though I haven't decided what exactly I'm training for. This week's long run called for a 7 mile run. As luck would have it ... I live on an island and I'm 7 miles away from a public beach with a park.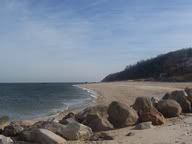 I find it rather exhilerating running to the ocean. There is nothing spectacular about the sights along the way, in fact I've ran in much more attractive settings ... but there is just something special about the act of running TO the OCEAN.
I had asked Jason if he would pick me up at the beach when I was done running.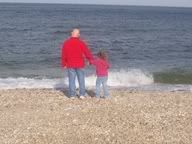 They passed me on their way to the park when I had about a mile left to go. When I finally got there they were down at the shoreline throwing rocks into the water. It was a heart warming experience finishing my run and seeing my loved ones there having a good time while they were waiting for me. I love finishing my runs in sight of my loving family.
So after the run I sat reminiscing while Jason pushed Megan on the swings.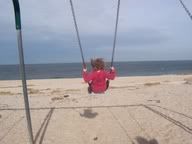 I was remembering the first time I ever ran 7 miles. It was late summer in Cedar Rapids, IA and I just walked out my door and went running. I didn't have a route planned it was an as you go type of run. It was hard! I remember walking in my door after the run knowing that I couldn't have ran two steps further. But as exhausted as I was I knew it was a great accomplishment. It doesn't change ... it was a great accomplishment back then ... and it was a great accomplishment today as well!!!
Back then ...
Running Stats (8/27/05)
Running Time: 1:44:26
Running Distance: 7.00 mi
Average Pace: 14:55/mi
Today ...
Running Stats (1/21/06)
Running Time: 1:26:20
Running Distance: 7.02 mi
Average Pace: 12:18/mi